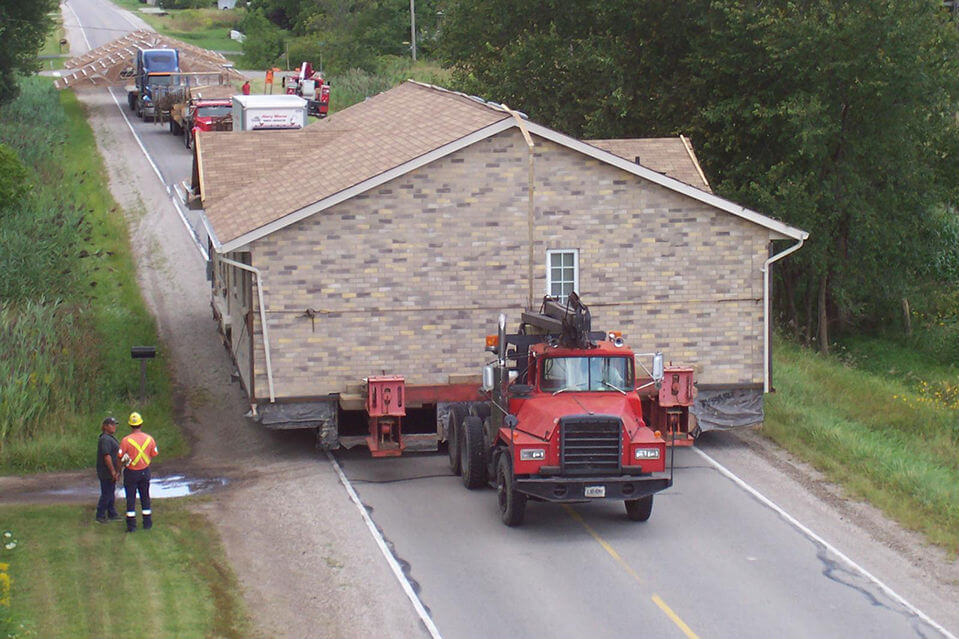 Residential and
Seasonal Homes
The main service of our business focuses on home movement from one area to another. Each home move is unique depending on location, road obstacles and home structural dimensions. Permits are required to move a home via public roadways. It usually takes approximately 6 weeks for all permits to be issued. These permits require notification of all local utility companies such as hydro, cable, telephone, and local police service. We arrange escort services with the local companies involved, so that the move goes smoothly, without any damage to the road, property, or the home itself. 
Although it is possible, the movement of brick homes is not suggested, as it not cost effective and results in less than ideal moving conditions for both the movers and homeowners. Vinyl siding homes can remain as are. Warne\'s methods of moving allows for the house to be lifted equally no each side, regardless of the weight differences, allowing for the interior to remain unaltered. Often the only repercussion of a home move is fine hairline cracks in the drywall over doorways or windows.
Costs and 

Permits
Permit costs and road deposits vary between counties, townships, and other municipalities. Costs also vary depending on length of the move, height of the home, and number of railway crossings. Sometimes a move can be more cost effective by traveling across fields rather than public roads. It is possible to travel across fields with permission after harvest if the fields are dry, or in the winter when the ground has ample frost in it.Costs may also vary because of the structural integrity of the home. Sometimes a home is able to be lifted in a very simple manner using a single set of beams, while others with additions, porches, or varied height of foundations may require several beams to support the home. The more steel beams used the higher the cost.